John Grubbs offers a variety of Environmental Health & Safety services to satisfy your needs. Please click on the course titles below for course descriptions and registration purposes.
OSHA Hazardous Waste Training
OSHA Outreach Training
General Industry Course Library
Safety Program Development
Develop Site Specific Policies
Safety Training
Annual Audits
Facility Safety Inspections
Site Specific Audits
Training
Truck Driver Safety Training
8-Hour Course
Statistics, Trends & Tips for Safe Operation
Health & Safety Contingency Plans
Site Specific Plans
Implementation Assistance
Training
Additional Training Opportunities
Commercial Safe Driving
Confined Space
Ergonomics
Lockout /Tag Out
Personal Protective Equipment
Hearing Conservation
Material Safety Data Sheets
Hazard Communication
Electrical Safety
And much more...
Buy John Grubbs new book "Safety Made Easy." Click here.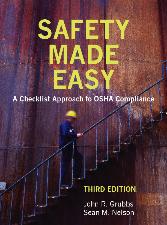 John Grubbs has written the book on Safety.

This book, now in its 3rd edition, is your must-have resource for safety and OSHA compliance. Reserve your copy today!