Rebuild or Reboot after Covid-19
05/05/2020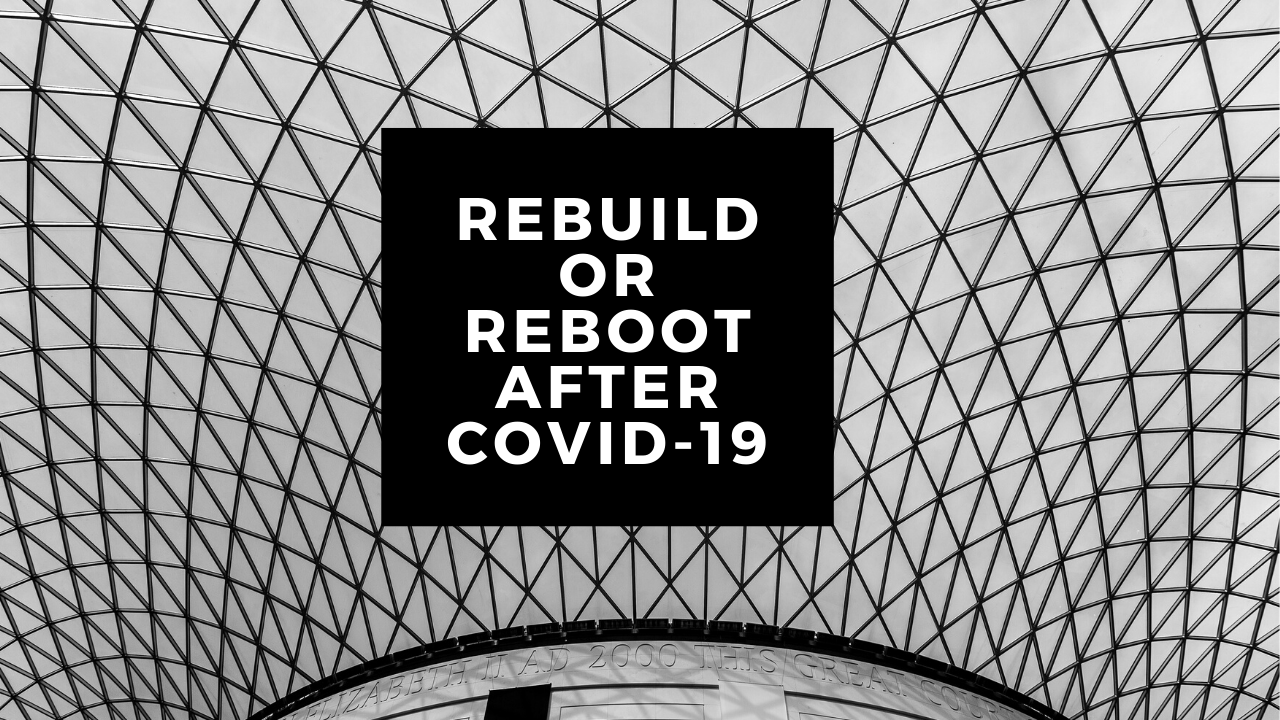 The challenge facing many businesses is unprecedented.  We are likely to have a wholesale shift in demand for long-time institutions of the past and the present.  Some businesses, as we know them, are going to evaporate.  This virus is killing businesses with as much vigor as it has people.  Tragically, some businesses have been infected and do not realize it. The question for many business leaders, as we start to reopen the economy is, do I rebuild the business or do I reboot?  Should I rebuild as it was, presuming demand will return or reboot to something else?
Will people return to movie theaters?  Will parents pay similarly priced tuition for on-line courses?  Will students return to universities?  Will enough people get on a Carnival Cruise ship (they restart trips out of Galveston in August) to be profitable?  The business landscape is in the middle of an earthquake, and we are waiting for the shake to stop.  Once it stops and the dust settles, the landscape may look significantly different.
One analyst used an acronym to describe the hardest hit industries.  BEACH stocks, as it is called represent the Booking Industry, Entertainment & Live Events, Airlines, Cruises & Casinos, Hotels and Resorts.  These companies are all contracting during the pandemic.  How many will survive?
The answer is painful but simple.  The only way to predict the future is to revisit a basic truth.  The law of supply and demand will portend the future for all distressed businesses.  Will consumers create demand for the service being offered? Will consumers change the way they consume?  In other words, can you rebuild demand or can you reboot to something desired by the consumer?
Business leaders must be brutally honest about the demand for products and services.  If you are a concert promoter, 2020 is bleak.  2021 may not be much better in the wake of the pandemic.  When will people feel comfortable gathering in a venue again?
Fear and pain are safe indicators for behavior.  You may be allowed to reopen a restaurant, but will people feel safe coming inside?  We can assess demand or demand recovery by looking at consumer fear.  In behavioral economics, we learn that people fear loss at a 2:1 margin over gain.  If people are afraid, you can logically estimate it will take twice as long to recover in a certain business segment.  If fear of loss over gain was 1:1, businesses could hope for recovery sooner rather than later.
The sooner we reopen the economy, the sooner we can start the clock on fear and assess demand recovery.  Business owners can start rebooting to alleviate the fear by population segment.  I don't think too many retirees are going to be excited about a cruise to Alaska soon.  However, millennials may be excited about a cheap cruise to the Caribbean, assuming they have a job to fund the trip.
Consider two sloped lines.  One line is demand moving up.  One line is fear moving down.  The intersection of these two lines represents the beginning of your recovery. Smart business owners will work deliberately to impact the slope of each line.  For example, if a church creates an outside service and allows people to be distant; fear goes down and demand goes up.  This inverse relationship will be the key for many institutions to recover going forward.
Organizations can also reboot to something different in order to impact fear and demand.  For example, a dating service may offer subscribers in-home Covid-19 antibody tests (once available) to certify that members are tested periodically.  This pushes fear down and increases demand for the service.
Regardless of industry, the simple law of supply and demand applies to your business.  If there is no demand for what you offer, it is time to reboot unless you can create or stimulate demand.  If there is more supply than demand (airline industry), expect lower revenues until things improve.  Be honest with yourself.  Do whatever you can to eliminate fear in your industry.  If you were successful before Covid-19, the demand for your product or service was legitimate. Simplify short-term decisions by asking yourself two questions.  Will this decrease fear in my industry?  Will this improve demand in my industry?  These two clarifying questions are the key to recovery.