Pandemics Are Good for Business
09/11/2020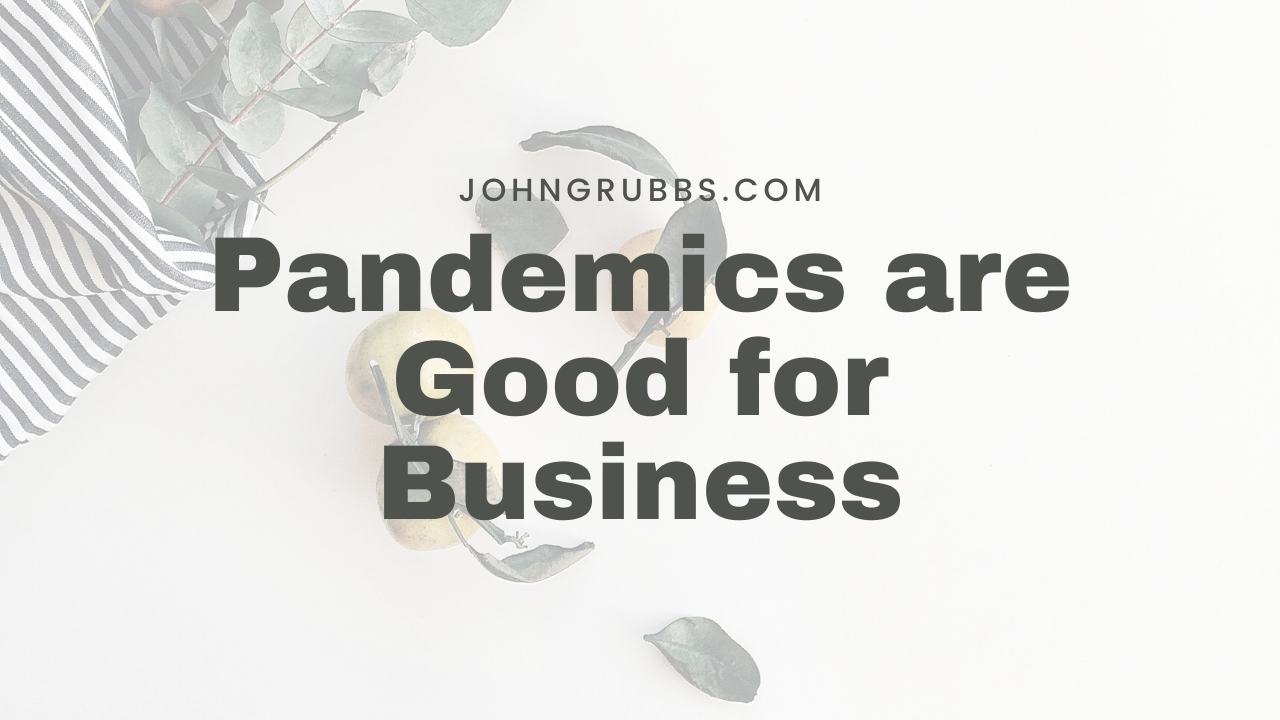 I don't mean some businesses.  I mean all businesses.  The pandemic is even good for the small hotel, suffering with low occupancy.  From the struggling restaurant to the giant airline, all businesses should benefit from the economic decline associated with Covid-19.  Just like a trip to the dentist; what we "need" might not be pleasurable, yet it is good for us in the long run.  Stay with me if you disagree.  This will make sense in the end.
There are three types of business impact from the pandemic and associated economic decline.  First, some businesses are booming as a result of this historic event.  Businesses like Amazon and Zoom are pandemic winners.  Jeff Bezos can start burning hundred dollar bills and will never run out of fuel for his fire.  Zoom has become a verb in the developed world.  Let's zoom is common, and I am not sure I had ever heard of Zoom pre-pandemic.  Other businesses are thriving.  Recreational vehicles are rolling out of sales lots and demand is far ahead of production.  Home appliances are facing the largest backlog in manufacturing history.  Life is good for people in these businesses.  Or is it?
Growth is good for business.  However, too much growth too fast can be a problem.  It takes specialized skill and knowledge to accommodate massive growth.  Capacity issues and patience are often in short supply when negotiating insatiable consumer demand.  Businesses actually changes at different growth thresholds and many companies lack the sophistication to adapt to new complications as certain growth milestones are achieved.  Companies outgrow some people's capabilities (skills and knowledge) when facing normal growth.  This problem is magnified 10X when facing catastrophic growth.  It requires a special leader to change people fast enough to accommodate hyper growth.
Another challenge with too much growth too fast is capacity.  Far too many organizations lack the ability to match demand with capacity at a rate that is optimal.  As a result, opportunity is missed or by the time the (estimated) capacity has been achieved, demand has already contracted.  In others words, they blew it!
The second positive business impact is closing the business forever.  Let's face it, when times are booming some businesses barely survive.  Strong economic times hide struggling business people along with poor decisions.  That's correct.  Even poorly run businesses can survive in good market conditions.  They hang on to the idea of someday.  Someday is a disease that will take your dreams to the grave with you.  Someday, we will get better.  These businesses creep along from one payroll period to the next with the intoxication of hope that things will get better.  This hopium addiction is accompanied by excuses and pain for everyone involved.  Some businesses are a bad idea operated by people with false expectations and denial of reality while surrounded by sycophants (or consultants) living parasitically on the remnants of what will never be anything more than an "ugly baby" business.  Whoa!  [That last sentence went longer than I wanted but I just couldn't stop writing.  Read it again]  Like a suffering animal, sometimes it is best to relieve the pain and misery.  Covid-19 will euthanize these businesses.
Sharp economic decline surfaces problems in business.  The third positive impact from this pandemic is the exposure of mediocrity.  Average companies can thrive in a robust market.  There are enough customers for everyone.  Think about a pack of wolves.  When there is plenty of prey, everyone gets to eat and get a full stomach.  When prey is scarce, only the strong get to eat.  I am helping several energy companies rethink, reboot, and thrive during unprecedented times.  Low oil prices and the pandemic (at the same time) are double blows in this industry.  These companies (along with others) have two choices; complain or change. 
Hearing companies complain about the pandemic makes me nauseous.  The pandemic caused you to lose half your business?  Good!  Get better.  It is time to quit whining and change your business.  Stop being a victim.  If your business was stronger, more diverse, or whatever pre-pandemic; you would not be in this position.  It is time to take total ownership and move forward.  It is your fault. Can you say that to yourself?
Following is the powerful lesson I promised you at the beginning.  Neither size nor financial strength is required to survive current economic conditions; although they certainly don't hurt.  Your ability to survive and thrive is directly proportional to your ability to change and adapt.  That is correct.  Adaptation to the new market (whatever it might be) is the key to thriving in your business. 
Chic Fil A is a good example.  I have never seen a business pivot as fast (and as well) as they have with drive-through business.  They are a model for other businesses.  There are two locations within two miles of my office and both are packed most of the day.  Ironically, both locations were closed (not at the same time), demolished, and remodeled to improve drive-through effectiveness and other things in 2018 and 2019.  Without knowing the pandemic was coming, the wise owner shut them down for months each (incurring significant revenue losses) in order to become better and more profitable.  In other words, they became stronger wolves.
Your lesson, should you choose to accept it is adaptability.  How are you adapting to a smaller market?  How are you adapting to changing consumer demand?  How are you adapting to get stronger?  In order to get stronger as a business, focus must accompany change.  It's likely your business organically lost focus pre-pandemic.  You started taking less profitable orders, you kept or promoted the wrong people, you diversified into products that seemed interesting, or whatever.  You lost focus on strategies where you are really strong.  A large, forgiving market allowed this loss of focus. The honeymoon is over.  It's time dial-it-in and regain focus. 
Adapting to your focus is the best way to thrive in a smaller market.  It is time to prune your business bush.  Prune products, customers, employees, and effort in order to become stronger and more focused for success. I call this strategy an internal pivot.  If you offered ten soups in your restaurant, pivot to your top three and do them better than anyone else in the world.  If demand for one product is growing while others are contracting, pivot to demand.  Kimberly Clark is an example from years ago.  They grew as a paper mill company that sold paper products.  The paper mills were the core of the commodity business.  
[In the early 1970s, a century after the company began operations, CEO Darwin Smith drastically changed K-C's course. He began selling the commodity paper mills — even one in namesake Kimberly, Wis. — and focused instead on consumer products such as Kleenex and disposable diapers.]
Do you get it?  In this market, you cannot be all things to all customers.  Will you change your perspective on the pandemic and view this difficult time as the beginning of your new strategy in business?  Will you consider the economic downturn as an opportunity to change your business for the future?  Can you say, "This pandemic is good for my business"?