I Wrote About the Workplace 2020 in the Year 2010...
10/02/2018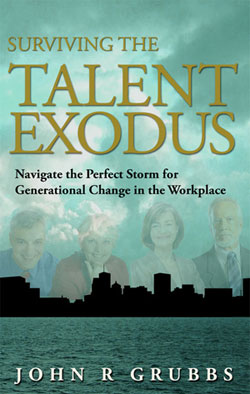 In 2010, I predicted what the workplace would be like in the year 2020. Chapter 18 of "Surviving the Talent Exodus" is a two part examination. The first part describes the workplace as it would become. The second part is a story about a fictitious character named Trent, a 27 year old robotic technician considering a job change. We called millennials Generation Y in the old days.  How much do you think has or is coming true? You be the judge!
The Workplace 2020
I cannot believe that I am writing anything about the year 2020.  It almost sounds like a science fiction movie title and yet it is only ten short years away.  I say "short" because this past decade flew by at an inconceivable pace in my own mind.  The reality of the present is that 2020 is just around the corner and the corner is getting closer as we speak.
The workplace is changing so fast and we cannot see (or in some cases deal with) the rate of change we are experiencing.  Most companies are still stuck in the models of the past and are not preparing for the enormity the future holds for us all.  In fact, most leaders (that I interview) are still clueless when it comes to the significance of January 1st, 2011.  This lack of knowledge represents a view that has been obscured by the current recession.  Imagine the upcoming demand for quality workers and the pressure companies will have finding talent.  Some even predict that in ten years companies will have more difficulty finding employees than customers.
The workplace in 2020 will be very different from what we see today.  Research indicates a major shift that is both intrinsic and extrinsic to most companies.  In other words, change will be driven both by the employee and the employment market.  Human resources will become more similar to the talent scouts we see in professional sports.  Proven talent will cost a premium while the promise of talent will be held in suspicion.  Your resume and credentials alone will not get you in the door.  Social networks and other media will the most likely source of the next job.
Highly educated and skilled workers will be represented by "agents" that will sell their capability to the highest bidder.  Employment packages will be pre-negotiated and contracts will lean heavily in the favor of the worker.  These proven employees will be in control and the companies that seek their talent will either pay or settle for the next level down based upon budget and other tangible limitations.  Employees will be available, however the best employee(s) will be very difficult to attain.
The workplace in 2020 will also become an incubator of talent.  In an environment where top performers are rare, companies will attempt to "grow their own" so to speak.  Emphasis on learning and information will be the competitive advantage for the best organizations.  Corporate universities and educational partnerships will be a huge part of the annual budget.  No more will companies cut training budgets first as is common today.  Executives will understand that the collection of talent and its capability will define the winning organization.
Many baby boomers and their vast knowledge and experience will be a distant memory as they will be approaching seventy five years old.  The workplace will be dominated by the Generation Y and sprinkled with the small group representing Generation X.  A huge paradigm shift has changed attitudes toward work and work schedules. 
The beginning of the end of the forty hour work week has appeared.  The old-fashioned preoccupation with time as a measure of work has lost favor and given way to flexible schedules that pay for output rather than "sitput"**.  Single parents are the norm and work has been adjusted to accommodate the needs of the newer and smaller family unit.  Many people are in jobs that allow a cross-pollination of work-home office concepts while others simply work around the demands of life, traffic and other issues.  Most of these new managers will have come to realize that inflexibility will drive away the very same talent that is so hard to find.
Loyalty to work will be long gone and companies will not expect twenty years of service from any employee.  More likely is the idea that talented individual contributors will be constantly moving from one opportunity to the next in a concept similar to free agency in professional sports.  Employment models and contracts will be based on an eighteen to twenty-four month duration that can be renewed by the agreement of both parties if desired.
The workplace itself will be designed (like high end department stores and casinos to get you in and keep you in as long as possible) to attract and keep the best talent inside the facility.  Resources that make life easier for the employee will become more common.  Daycare and medical services may even be expected in order to attract the best from the talent pool.  Workout facilities and nap pods (don't laugh) are available to keep the workforce energized and refreshed.  Restaurants and cafeteria services in the workplace are norm rather than the exception.
The older models of work will still remain.  However, they will become the repository of the worker with the minimal amount of talent or flexibility.  A huge divide will occur and a sharp contrast in the design of the typical workplace will become evident.  Struggling organizations that are not financially capable of providing the high-demand workplace will settle for those employees that cannot attain the best jobs.  These dying companies will live on (for a while) with significant struggle that mirrors a self-fulfilling prophecy of poor workers and a lack of individual capability.  These companies may even survive on the temporary lack of expectations from immigrant workers that are simply happy to be in the United States and have a job.  The cream of this crop in this population will also rise and have higher expectations.  What will your organization look like in ten years?
**Sitput – the tendency of organizations to pay employees to sit or stand for time rather than productive output.
Example:
Trent is a twenty-seven year old robotic technician and the year is 2021.  Trent has a girlfriend but no other significant ties to the community in which he currently lives.  He makes a comfortable salary with his current employer and is always looking for the next great thing or something to improve his financial as well as personal position in life.  He has no immediately family where he lives and welcomes any opportunity to get back to southeastern Oklahoma where he grew up.
Trent placed his electronic resume on the most popular websites relevant to his specialty more to see what is available than to actively search for a new job.  His five years of experience with the same company since college is unusual and he would not mind considering some change for the future.  After all, most of his peers have never been with the same company much more than a year or two and feels very strange having stayed in the same job for near five years now.  His collegiate friends often tease him about his lack of mobility and whether or not he has become literally rooted to the current company.
Trent gets an electronic notification from on his smart phone regarding a position with a company in Tulsa, Oklahoma which is about two hours north of his hometown.  Luckily, he believes this job is close enough to go home without having to live at home.  This might just be the change of scenery Trent is looking for at this point in his life.  Things have become stale on his current job and he does not feel like he is learning or being stretched to perform.  The company is doing fine but the amount of information he receives is quite small and truthfully he is bored with his current reality.
The job opening and corresponding initial offer in Tulsa, Oklahoma is quite interesting and he is talking himself into giving it serious consideration.  The contract offered by the agent requires an eighteen month commitment and the new company will pay him $144,000.00 over the eighteen month period or $8,000.00 per month before taxes.  His productive output and contract amount only requires that he simply produce between six and eight units per week.  The schedule for work is very flexible and as long as the units are completed by the Saturday of the preceding week, his hours of work are totally optional.  He can work any time of day or night as long as the units are in compliance with the specifications and completed on time.
Most of the information describes the company and the vast amenities offered at this one hundred acre campus.  Trent is very interested to learn that the campus has almost everything a modern workplace should have to attract and keep the best young workers in the country. 
There are five full service restaurants with as much food as the employees desire at not cost twenty-four hours a day seven days a week.  There is a complete workout facility onsite complete with a gymnasium and indoor swimming complex.  The company has a medical clinic and fulltime physician to partner with each employee for optimum health.  Additionally, the campus offers housing for employees at a minimal cost to encourage the option of no daily commute.
Even more attractive to Trent are the six universities with satellite campuses for him to quench his never ending thirst for knowledge and information.  The company seems to really emphasize learning and that is of significant interest to Trent since he enjoys new information constantly.
Trent is struggling with the choice of taking this job or waiting for the next offer.  He receives about three similar type notifications each week and this one is exactly where he would like to consider relocating.  The money is somewhat less than other offers he has received lately but the location could be the deciding factor.  Trent is struggling with whether he should make the commitment and agree to be considered for the job or not.  He is very likely to be considered with his credentials and five years of experience.