2020 Isn't Over, It's Only Halftime!
06/18/2020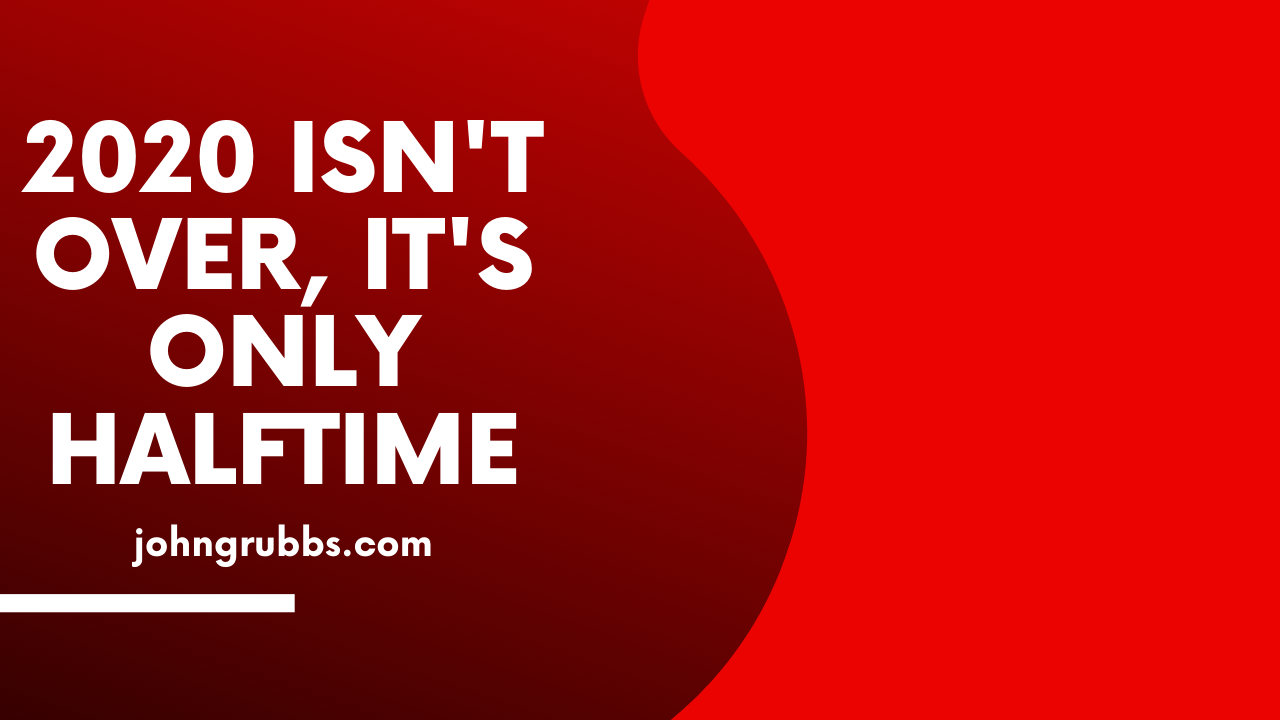 We can still win this!  Consider this your halftime pep talk.  There is a significant polarization among attitudes toward 2020.  This year sucks.  We need a 2020 do-over.  I am so over 2020.  Blah, blah, blah.  If you have mentally checked out over 2020, it is time to rethink opportunity.  Winning takes talent, hard work, and luck. Luck somehow seems to find those that work hard.  Winning repeatedly takes character.  Giving up is easy.  Quitting when times are tough can become a habit and a way of life.
I am coaching some amazing CEOs whose businesses have been devastated by the pandemic and the economy.  There are some powerful lessons to be gained by the attitude and the mindset of winners in the game of life and yes, business.  Attitude is the one thing we can always control.  It is also far more contagious than Covid-19.  We had our butts kicked in the second quarter of 2020; no doubt.  Now it is halftime.  It is time to make some adjustments.  It is time to look at how you can get back out there and win.  No excuses.  In business terms, it is time to pivot.
You were born to win.  You created, bought, or were selected to operate that business to win.  If you don't play to win, don't play at all.  Champions are afraid of losing.  It consumes them mentally and physically.  Winning means you are willing to go longer, work harder, and give more than others.  Your team is watching you.  They are going to be infected by your attitude toward the second half of 2020.  You can wallow in misery; so will they.  Or, you can grab your helmet, strap on that chin strap, and get back out there to win.  It is time to dominate your market.  It is easy to have faith in yourself (and your business) when you are winning.  It is challenging to keep the faith when you are losing.
Winning is a mindset.  Guess what?  We get to choose our mindset.  That's right.  You can choose a future negative mindset.  This year is toast.  I will never recover.  I will never reach my numbers.  Whatever!  Or, you can choose a future positive mindset.  My business will return better and stronger than ever before.  If you dream it, say it, and believe it; you can do it.
This is tough love.  What if you were mediocre before the pandemic?  What if you held on to a team of mediocre people because you did not want to confront or hurt people's feelings?  What if your small thinking is the problem?  Winners confront the brutal facts and move the hell on.  Halftime is reflection time.  If you are honest with yourself about your pre-pandemic reality, did you have the grit and determination of a winner?  Tyrion Lannister (Game of Thrones) said, "Perhaps that is the secret – it is not what we did, so much as why we did it".  What is your why?
Examine your attitude.  If you are going to be successful at big things, you must develop habits in the smallest of details.  Excellence is not the exception; it is a direct reflection of your attitude.  Discover a path that scares you.  Fear is the indicator that you are on the right path.  What can you do in the second half of 2020 that literally dumps adrenaline into your bloodstream?  Just thinking about it evokes a physiological response.  It could be a complete menu change for your restaurant.  It could be the acquisition of a competitor.  It could be firing your brother.  It could be a new product line.  It could be a new career.  Deep down you likely know what to do, but you have been suppressing the decision in your mind.  You have conveniently placed the "big move" in the small hall closet in the darkest part of your mind.  It is time to locate that decision, dust it off, and open the game of Jumanji.   It is time to play the game.
Most of us were knocked down in 2020.  It has been a rough first half.  Remember, staying down is a choice.  My training business disappeared like hands on the table when the waiter brings the check.  I have implemented a new business strategy that I would have never been able to see before the pandemic.  I am confident there is a pivot opportunity for every business, including yours.
What if you compromised too much before coronavirus?  What if you accepted mediocrity?  What if the status quo is the problem?  These are challenging questions we must ask ourselves.  In the book "Good to Great", Jim Collins shared the Stockdale Paradox.  He examined what separates the most successful organizations from others. 
Admiral James Stockdale was a former naval officer. As a high-ranking officer during the Vietnam War, he was captured and held as a prisoner of war for seven years. While in captivity, Stockdale was repeatedly tortured, suffered terribly, and had little reason to believe he would survive.  Ironically, what saved Stockdale's life was his ability to process the awful reality of his situation, while balancing that realism with a steadfast, optimistic belief that he would survive and return home.
Will you confront the brutal facts about 2020 and look forward?  Yes, thirteen percent unemployment is brutal.  However, more talent is now available to improve your business than at any time in recent history.  Where some see a catastrophic reality, others see opportunity.  The lens you choose to view current reality is vital to your success. 
June is almost over.  The second half is about to begin.  I want you to get back out there and go big.  Strap on your positive attitude.  Tighten up your future positive mindset.  Create a mental picture of the winning scoreboard after the fourth quarter is over.  I believe in you.  You got this!