The Learning Spotlight
The Acceptance Paradox


It is interesting how truly ironic life can be when you are able to view it through the portal of wisdom. Experience is a valued old master that cannot be replicated no matter how much we try. Our need to be accepted as teenagers is a significant barrier to success as adults. As adults, we must often be different in order to achieve success. The average student, worker, singer, or athlete is rarely blessed with success by most definitions. The acceptance paradox states that the need to be accepted during one stage in life can actually prevent success in another.
During our formative years as teenagers and young adults, acceptance from our social peer group is very important. In fact, the need to be accepted or fit-in with a group may be the most important desire for many as they develop their own identity. Psychologists state peer acceptance can actually be a predictor of both social and academic success. The need to be popular is an exaggerated version of peer acceptance by a particularsocialgroup.
So what is the difference between these two stages of life?
Finish reading this article...
"The common organization will always follow the leader. The common individual will rarely accomplish the uncommon. Organizations must learn and develop intolerance for the ordinary by creating a culture for change. From the incubation of small changes to the implementation of wholesale differentiation in a given market, leaders can either stall success or create new opportunity."
Are your supervisors and managers ready? How will they attract and keep the best and brightest as the jobs return?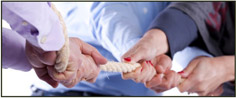 Book our 2-Day Intensive Talent Boot Camp at your organization for up to 30 leaders in each session. Get
your leaders ready for the coming battle. Our proven methodology will help your teams keep the best and
brightest while attracting new talent for your organization.
You will learn:
Why the workplace is going to war for talent

How to survive the coming storm for knowledge

Why most managers are clueless

Ten fatal trends that can cause you to fail

How to develop a written talent strategy

How to win the war for the best talent
Call (903) 295-7400 today! Our 2014 Calendar is filling fast!