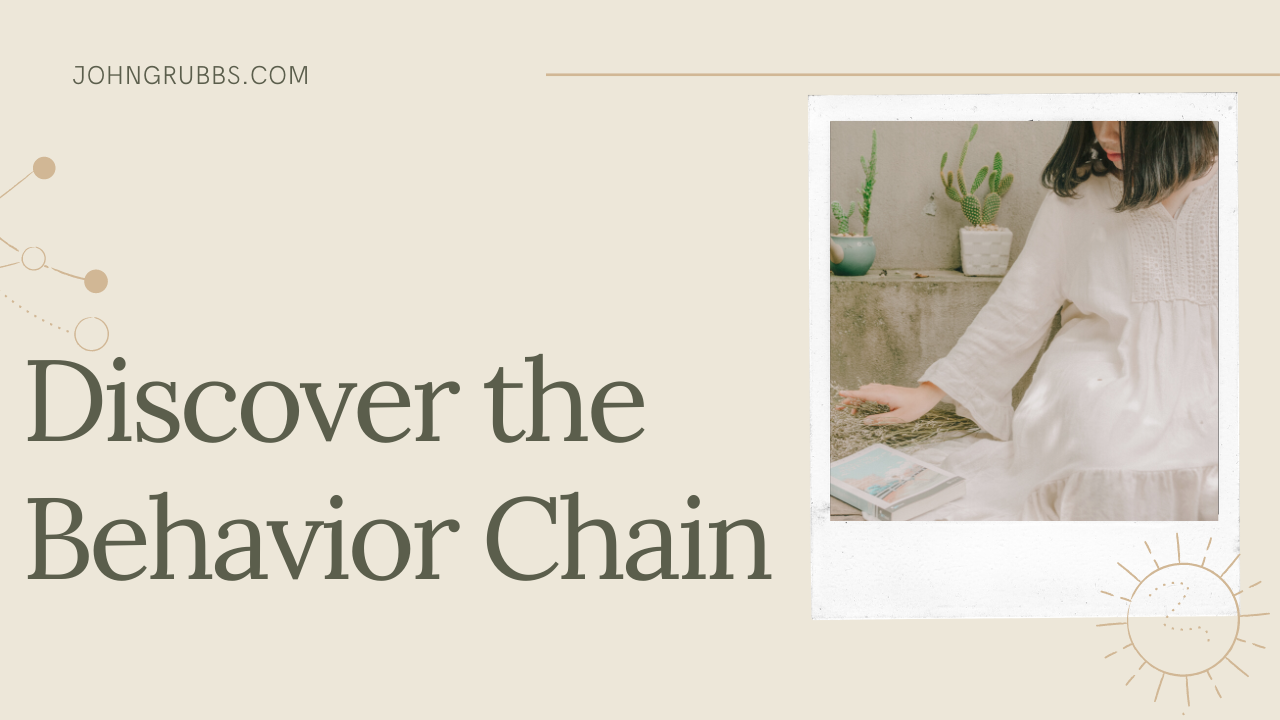 Why do you keep doing that? Do you have behavior patterns that you want to change? If you are like most people, you struggle with behavior (or lack thereof) holding you back or limiting success in various life areas. You want to lose weight, but you cannot ignore the donuts at the office. You want to save money, but you cannot resist the sale at the electronics store. This type of cognitive dissonance is present in everyone. You are not alone, and you are not dysfunctional. You are human.
As a business coach, I look for causation and behavior patterns that prevent people from achieving business goals. The same psychology applies to other facets of our lives. Understanding your behavior chain is the first step to breaking a bad habit or achieving success in life. The stages in a behavior chain are a trigger, thought, action, and consequence.
All behavior chains have one thing in common; they begin with a trigger. Finding motivation is the best way to change behavior. Your brain is "triggered" by feelings and emotions. In sales training, I teach people to look for triggers in potential buyers. They are behind every sale and buying decision. You see a deal on mattresses while driving and pull over to make a purchase. Minutes earlier, a bed was not even on your mind. Something triggered you to begin the behavior chain. Triggers can be environmental, biological, mental, emotional, or social. Successful salespeople utilize multiple triggers to move someone along on the buying journey.
In workplace safety, triggers are an essential component in changing human behavior. Social "triggers," like peer pressure, are useful in guiding behavior on the job. For example, Joe never wore a seatbelt while operating a forklift in the past. In his new position, everyone wears a seatbelt. Joe will likely be triggered to change his behavior. Ironically, this also works in reverse. Joe always wore his seatbelt in the past. On his new job, none of his coworkers are wearing seatbelts. Joe is likely to skip the seatbelt to be accepted by his new peer group.
Authority is another trigger. People like to follow people who others are already following. It is a form of passing the responsibility for decision-making to other people. It reduces mental stress. Providing supervisors with content and knowledge establishes them as an authority. Leveraging the authority trigger is a powerful enhancement for leading human behavior change in the workplace. In behavior-based safety training, I teach supervisors how to leverage personal stories and anecdotal information to trigger employees' safe behavior. For example, a story about a supervisor nearly killing an employee due to a faulty scaffolding failure and subsequent fall is powerful alone. However, once they learn the supervisor was the employee's father, they become triggered.
Trust is the most potent trigger when it comes to selling. If people do not trust you, they will not buy from you. It is that simple. I teach salespeople to resist the urge to close until they have earned a potential buyer's trust. Premature attempts to close are one of the major failure points in a buyer's journey. Slowing the sales process to earn trust is a powerful method to improve closing more deals.
On the other hand, simplification is the most effective way to trigger desired behavior on the job. It works with your children, and yes, your potential buyer. People are looking for simple solutions, and a complex and complicated answer is a turn-off. Difficult decisions consume too many mental calories. Too much information creates the curse of knowledge. Cognitive friction prevents action. Never try to sell your product as complicated to make yourself sound like an expert. People will pay more money for a simple solution as opposed to something more complex.
Leadership, sales, and behavior-based safety are all rooted in what I call a chain analysis. Psychologists call this a functional analysis. When you help someone discover all the links in the behavior chain that ultimately resulted in problem (or desired) behavior, they connect the dots in their minds.
For example, identify the situation you are...