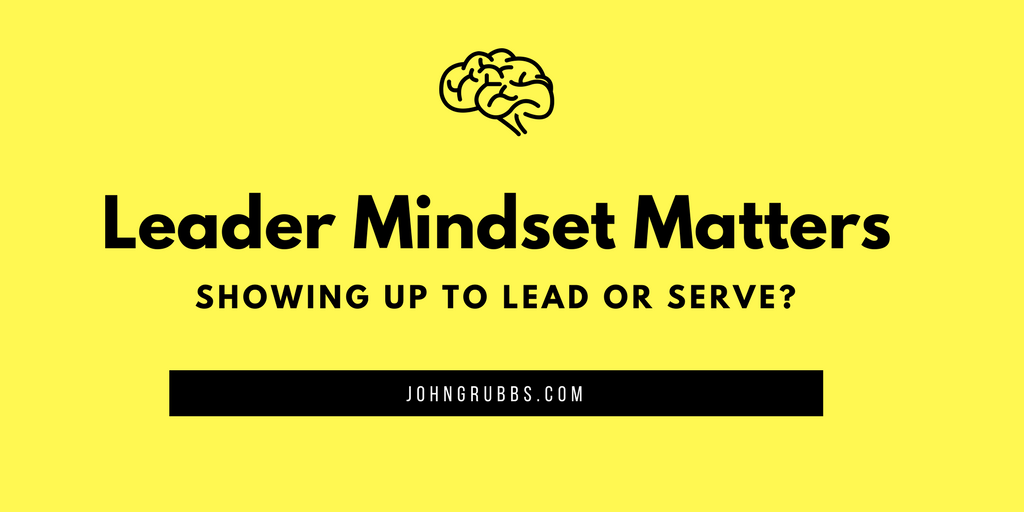 Showing up to Lead or to Serve? The Mindset You Arrive With Matters.
By John Grubbs
OK I admit it; there are tons of leadership ideas in the business world. Much of it reflects the same thoughts revisited from different paradigms (consultant rule: one must use the word "paradigm" once daily to remain credible) and perspectives. However, there is much less consensus on the mindset we bring to work each day. I want you to think about your daily commute to work. Do you think about the problems and opportunities that need to be addressed? Or, do you think about the people you need to help become successful? This may seem insignificant at first glance, but is it?
Consider the implications of both. One puts us in the mindset of direct action while the other is much more indirect. I compare it to focus on leading indicators versus trailing indicators. One obviously leads to another. However, I believe the difference is much more powerful for those in leadership roles because it changes our approach to work. Consequently, I believe the approach we bring daily guides our response to the many challenges that we are going to face.
So let's examine the concept of approach. According to the APA (American Psychology Association), sports psychology is a proficiency that uses knowledge and skills to address optimal performance and the wellbeing of athletes. As a CEO Coach, my role is no different. I help leaders with the developmental and social aspects of business participation. Together, we address the systemic issues associated with participation in business settings. Think about the approach a batter chooses when stepping into the batter's box. If the batter is struggling, one approach may be to avoid another out. If a batter has found success, the approach may be to make solid contact and see what happens. Does approach matter?
Sports psychologists help players overcome problems, enhance performance, and achieve goals. So what prevents a CEO, supervisor, or manager from taking the same approach each day? Instead of solving all the problems, they can take the approach of making others successful in whatever role they occupy. A few synonyms for approach are access, path, and way. If we approach leadership from these synonyms, they all point to servant leadership. Leaders can provide people with access to information and resources to perform job duties. They can provide a career path for current success and future retention. But most importantly, leaders provide a way for people to achieve success at work.
What does all this mean?
_______________________________
Eight Months Ago I Reluctantly
Joined a Peer Group
And now I am drinking the Kool Aid.
By Ami Kassar
I don't know how you were growing up, but I was never big on "group stuff". I never joined a fraternity or liked to be a part of anything that required regular commitments of my time.
Given the choice to have a quiet dinner with a smart friend vs. go out with a big group I would always pick the more intimate experience.
I went to business school and skipped out on the football games and all of the barbecues.
Call me an introvert.
Which is perhaps why I joined a Vistage group eight months ago with great trepidation.
I committed myself to spend a day a month with a group of peers to work "on my business" instead of "in my business". I certainly fretted the time commitment, and "getting away" for a day. But frankly I was also nervous about spending a day a month with strangers.
Would I get anything out of it? Would I help them? Could they help me?
During the first few months I was reluctant to bring any of my issues to the table. I was happy to try to add my two cents to others issues. Sometimes at the end of the day, my brain hurt as I drove home as I realized that I wasn't alone.
I liked the group and the people, and I enjoyed the diversion from the day to day grind. I also benefited from the monthly one to one sessions with the Chair of my group.
But the real power of Vistage manifested itself last session when I broke out of my introvert shell and asked for feedback for an idea I was working on.
And sure enough in twenty to thirty minutes, this group of CEO's from non-competing industries, transformed how I think of messaging and marketing my company, and an entirely new product line. I am not sure they realize it, or even if I realized it until a few days later. But after the ideas sunk in, they were powerful, real and valid.
I didn't get the ideas from marketing or strategy consultants or an article I read on line. They didn't come from one of our regular team meetings. They came from a group of "outsiders" who are slowly becoming "insiders".
Thank you Vistage and thank you to my peers. You are slowly turning me into an extrovert after all.
Call John if you are interested in learning about his CEO Group - (903) 295-7400

Leading the Tribes Training - Book my 1-day class at your location for managers and supervisors.
Leading the Tribes Keynote Speech - Book my 1-hour speech for your event.
Call (903) 295-7400 Today!
_______________________________

Need a Keynote Speaker?


I'm always amazed at how fun you can make learning!
Tessa Conrad, Pak-Sher
Your excitement and energy as a speaker is amazing. Hearing you speak on your years of experience and insights on leadership and generational change was very relevant and something that we can all learn from and apply to our organizations.
Cliff McDaniel, Louisiana CPA Oil and Gas Conference
It was the best presentation that I have attended so far , You are the best speaker ever . I am so impressed that I have ordered 2 of your books on Amazon. So thank you for making a difference in people's personal and professional lives.

Lovely Chandla, Hilton
John Grubbs' keynote message is powerful! John is able to clearly convey his knowledge and foresight on the generational changes that affect ALL of us. I had many A-ha moments with his vivid examples. We continue to talk about what his message taught us to this day. You will have to reach for a tissue to wipe tears of emotion and laughter. John's message is memorable and inspirational!
Maria Gallegos
Texas Chemical Council
Call John Grubbs (903) 295-7400