The Learning Spotlight


Holy cow! We have another buzzword to remember. If you have not heard of beacon technology, rest assured because you most definitely will in the very near future. Think of it like this, your phone will get information based on your location and what is in proximity to your location. Wikipedia's description contains Apple's trademarked version called iBeacon.
[iBeacon is the trademark for an indoor proximity system that Apple Inc. calls "a new class of low-powered, low-cost transmitters that can notify nearby iOS 7 devices of their presence." The technology enables a smart phone or other device to perform actions when in close proximity to an iBeacon.
One application is to help smart phones determine their precise position or context. With the help of an iBeacon, a smartphone's software can pinpoint its own location in a store. iBeacons can help a phone show notifications of items nearby that are on sale, and it can enable payments at the point of sale (POS) where customers don't need to remove their wallets or cards to make payments.]
Companies now sell small wireless sensors that you can attach to any location or object. They broadcast tiny radio signals which your smartphone can receive and interpret, unlocking micro-location and contextual awareness. Apps on your smartphone are able to understand their proximity to nearby locations and objects, recognizing their type, ownership, approximate location, temperature and motion. They use this data to build a new generation of magical mobile apps that connect the real world to your smart device.
Are your supervisors and managers ready? How will they attract and keep the best and brightest as the jobs return?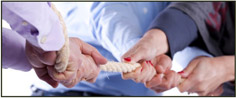 Book our 2-Day Intensive Talent Boot Camp at your organization for up to 30 leaders in each session. Get
your leaders ready for the coming battle. Our proven methodology will help your teams keep the best and
brightest while attracting new talent for your organization.
You will learn:
Why the workplace is going to war for talent

How to survive the coming storm for knowledge

Why most managers are clueless

Ten fatal trends that can cause you to fail

How to develop a written talent strategy

How to win the war for the best talent
Call (903) 295-7400 today! Our 2014 Calendar is filling fast!