My Time to Lead Series
Making the transition to leader is not easy and it is certainly not natural. Yet most companies invest little to nothing preparing new leaders for their new role. This often results in poor morale and higher turnover since many people just replicate what they have seen in the past. This leadership "gap" is prevalent in most companies. Our new and updated leadership series prepares leaders for this new role. Our 3-day leadership series (non-consecutive days) includes an 86 page work book and a copy of
"Listen Up Leader". We cover leadership essentials such as:
Making the leap from co-worker to supervisor

Learn the difference between communication and
effective communication

Differentiate between accountability and blame

Set goals to communicate accountability as a supervisor

Recognize the essential nature of trust

Create an environment that promotes trust in the workplace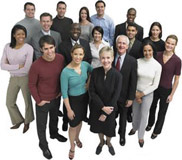 Isn't it Time Your Company Prepared its Future Leaders?